We made this awesome vegetarian Sweet Potato Hash over the weekend. It's part of our efforts to be healthy and to begin to eat more
plant-based
. Of course, when you tell people this they immediately frown and back away
slowly
. I know - I totally get this. For two years before my cancer diagnosis, I ate primarily a vegetarian diet and it was actually really hard and generally everyone in my life was like this: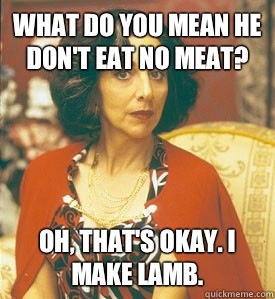 So, after cancer and with the temporary loss of my taste in my mouth, I gravitated towards meat - it was the first thing I could taste, it was delicious, and solid after close to six months of liquid food. Of course every time I ate bacon, I felt a little like everyone was hating on me like Micheal Douglas lighting up a cigarette after his cancer.
I had to come to a place where changes in my diet were actually fun and not a penalty or reminder that I've been really sick. A couple things have really help reorient my food thinkin' - one is
Kris Carr
; she is phenomenal and such an inspiration as a fellow cancer chick that completely changed her fate by changing her plate. Secondly, the documentary
Forks over Knives
- lots of good info on changing your attitude of thinking eating plant based is radical compared to a variety of surgeries and medication that has become our norm.
Starting slowly, we've stocked the house with lots and lots of fresh veggies and fruits
(honestly, we had no excuses living in Louisiana with long growing seasons and lots of availability)
. I've been preparing menus and pre-packing snacks and meals - so, no excuses - real food is always at hand. Also, I downloaded Kris Carr's latest book
Crazy Sexy Kitchen
- over 150 plant based recipes that actually sound and look like real food! And this is where we pluck this gem of a sweet potato recipe!
You'll need to snag a copy of the book yourself for the full recipe (the download thru a kindle or iTunes is a bargain price) but here are my modifications.
instead of Fakin' Bacon, we opted for Morningstar sausage patties - thawed in a skillet until they crumble (this is not gluten free)
instead of smoked paprika - my go to smoky hot is Penzey's Northwood Fire (it has chipolte)
I used a few of these sweet peppers instead of the full sizes called for in the recipe - they are also yummy with black beans.

and personal preference - I switched the parsley to cilantro.
due to the volume of the sausage added to the dish - double the cooking time.
Here's
another take on this recipe - she also made the tofu scramble that this dish is paired with in the cookbook.
--Lisa LeBlanc
connect with me:
website
|
twitter
|
facebook
|
pinterest
|
instagram
|
ravelry