Feet up, lights low...I'm trying to relax and come down from today while Chico attempts to drag a dirty pair of sweats (someone must of left on the floor -
not me
) on to her favorite chair.  She's not even a foot tall, so it's taking her a while...but she's determined to join it under the pillow (
where she thinks I don't know about her stash of missing socks and the occasional unmentionable
*sigh*).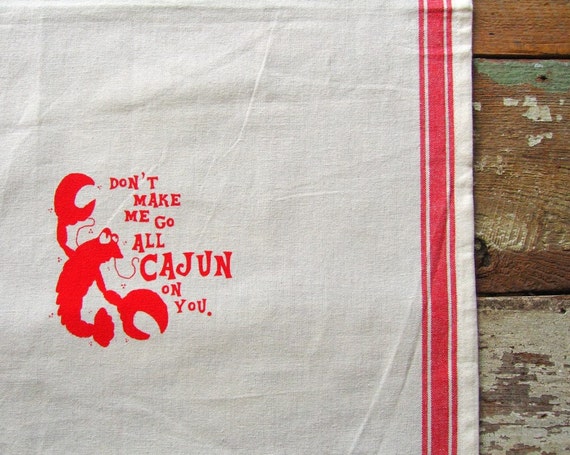 Today was great for a Tuesday, in the summer, of a small - fairly insignificant town.  My efforts busting
booty
on Monday to push out a lot of silk-screened items paid off today.  This adorable Cajun crawfish towel (2.0 of the this design) - quickly sold out online and in the store.  A new batch is drying as we speak.  It's funny how I'll spend hours sewing, cross stitching or crocheting...but out of
everything
I make people are just drawn to my silk-screened work.  Not that it's that much easier in comparison but I think we finally have a good system down between sources of screens, inks, and blanks.  For a time though - I was failing pretty regularly.  When I would announce it was the night I would silk-screen, C would gasp "oh no!" and wait for me to explode in a fit of tears.  It was that much of a nightmare!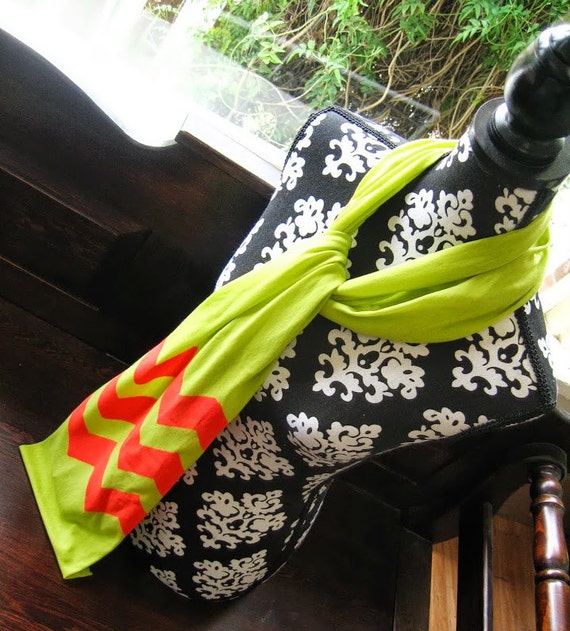 To prove that I like to keep challenging myself - or as C considers
"making it hard on myself"
- I've also been dabbling into a few accessory items.  I love scarves - however, they must be lightweight because it's just shy of 100 degrees here AND let's face it, in Southeast Louisiana it will not be considerably cooler come winter.  I found the perfect jersey knit - a polyester, not cotton, giving these scarves a lovely drape.  I wanted a big chunky chevron...so large that I actually had to paper cut the design to screen it.  They are lovely but quite a challenge...that loosey goosey fabric wants to move without being properly tacked and then there is a
massive
amount of ink being to push though the screen.  It took every bit of my being to keep the ink on the correct place in the scarf - we succeeded but found ourselves, the table, and the dog - day glo neon.  (Sort of like Tobias -
"I blue myself"
but with neon).  More colors are coming, we just need to build up our endurance
and decide what color we want to be.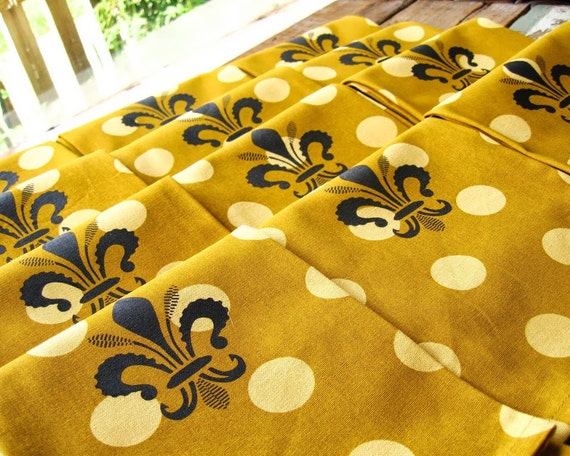 Still available from my
Manic Make-it Monday
are these new polka dot towels.  I'm using a new vendor for blanks, so I got just a few colorways of the design.  So far - I love it.  It's a nice neutral gold, but near New Orleans it so reads "Saints" football.  So, we hope, a double win for the shop...as we're not huge fans of glitzy (
overpriced
) licensed sports merch...so it's nice to have a handmade option to blend.
Bedtime is calling...as more towels to iron in the AM, a trip to the post office, and meeting with vendors...
and possible a taco salad
.
--Lisa LeBlanc
connect with me:
website
|
twitter
|
facebook
|
pinterest
|
instagram
|
ravelry