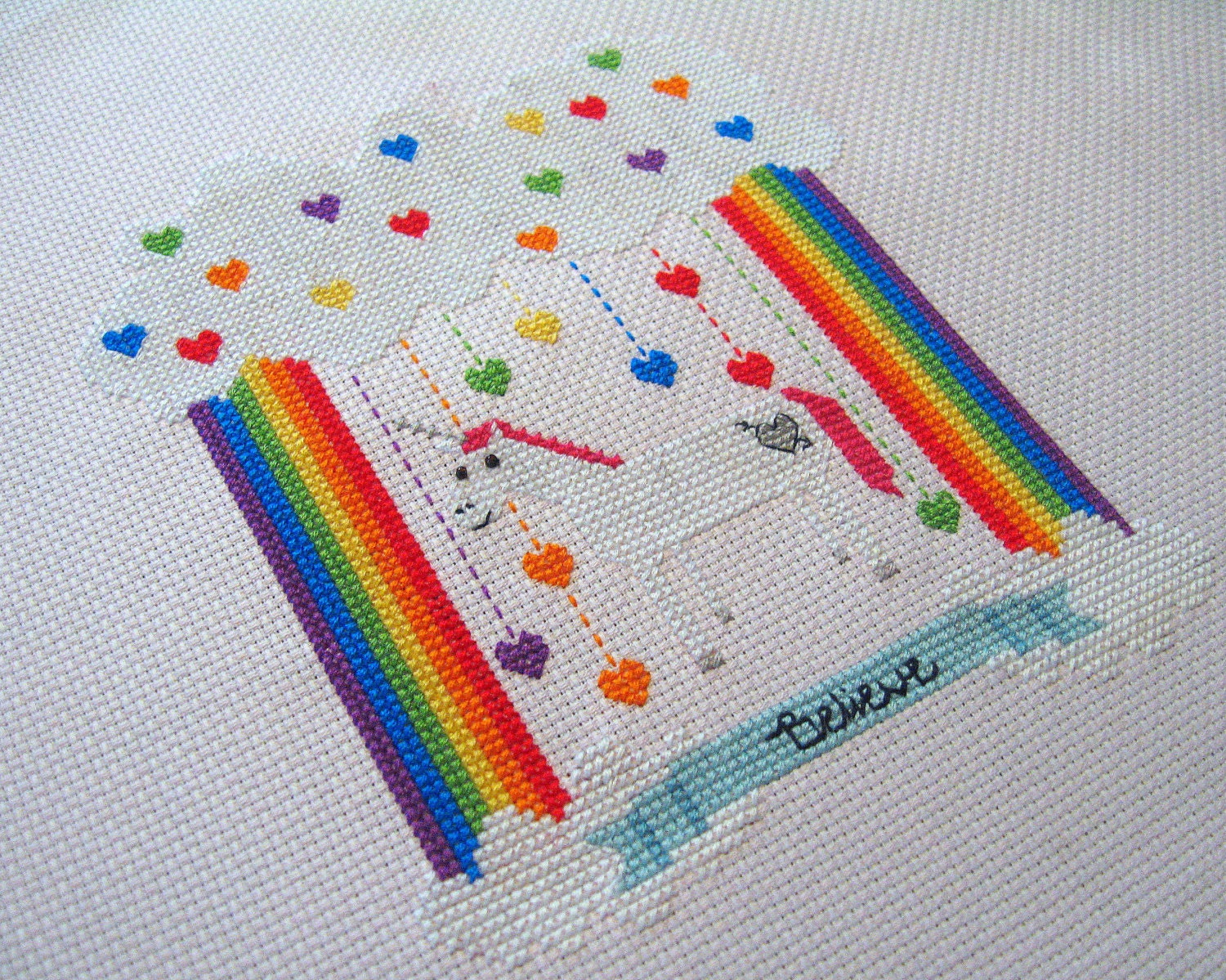 After the horrific events of yesterdays Boston Marathon, you know what
y'all
...it's time to launch this pattern.
Rainbows, Hearts, and Unicorns - f*ck yes!  I've spent the last couple of months slowly plotting away on my unicorn believer pattern, sometimes watching the news from the aftermath of Newtown, an ineffective congress on gun reform, and the debate on whether we should
ALL
have equal rights.  Some nights all I could do was look away into the happy silly face of my stitched unicorn.  And as silly and fun as my patterns can appear, to me they always have a deeper meaning than just face value.   Believe me, as a
Lisa Frank Trapper Keeper
toting child of the 80's, I grew up wishing unicorns were real (and that I was Madonna too).  Now, I know sometimes on rare occasions we can see actual unicorns...from people changing their Facebook and Twitter profile pics to equal signs to a brave few running to smoke and screams.  Let's all remember to be the unicorn when the opportunity arises...someone needs to believe in you.
This is my first pattern that allows for customization; included in the pattern is a full upper and lower case alphabet to put your own message within the 30 spaced banner...great for something as
uni-
corny as
"my other ride is a unicorn"
to the names of a couple to be wed.   Also, this pattern encourages you to pick a contrasting color of aida cloth (
Stitchnmomma
has some nice hand-dyed options); you can even vary a bit from the selected floss colors.  Make it your own!
The pattern is currently available through three venues: 
Etsy
and two instant download sites
Craftsy
and
Meylah
.
--Lisa LeBlanc
connect with me:
website
|
twitter
|
facebook
|
pinterest
|
instagram
|
ravelry