I still can't decide.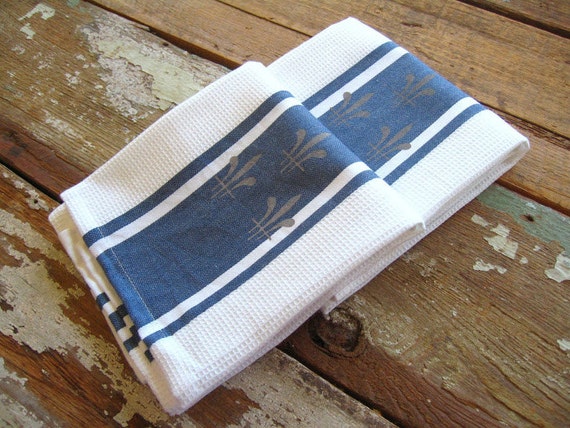 I've screened a few sets of the Julia Child inspired Fleur de Lis trio in the past (
here
and
here
) but I really can't settle on a blank to give me the look I want to standardize.
Here's another try...a nice blue stripe running the length of the towel with the trio in uniform grey.  I like it...but oh was it hard to get the correct registration on each towel...those tiny fleur de lis motifs had to land in just the right spot each time!  Oy!  That's the number one reason there's just two being offered at this time.  So if it speaks to you - please grab it
here
.
It's been fun silk-screening a bit more regularly - gosh, compared to my other hobbies of crochet, cross-stitch and now soap making - this is the
fastest
thing I can produce!  Last month I had two large orders online that nearly wiped out my stock
again
, so I am back to building it up once more.  I'm pleased tho, that one of the orders gave me a sweet review on
EVERY
style of towel she purchased thru Etsy including this particular one:
Fabulous!! Love the antique look of this fleur de lis!! Will shop here again. Thanks for offering such great quality items!!
She's talking about my
oatmeal linen towels
...which are still out of stock currently.  I've printed a big run of them, they are just waiting to be heat set.  Hopefully, they will be up by end of the week - gosh, they are sooooo pretty!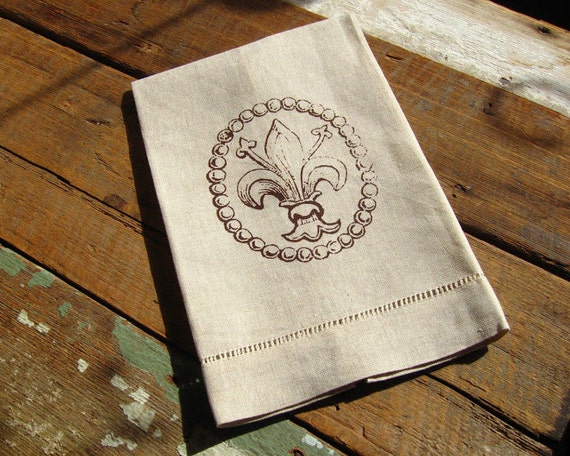 --Lisa LeBlanc
connect with me:
website
|
twitter
|
facebook
|
pinterest
|
ravelry