Finally, I'm having a stretch of good luck!  A couple weeks ago I happily won the new Rachel Maddow book
Drift: The Unmooring of American Military Power
...signed!  The contest was sponsored by
Maddowfans
; myself and another lucky duck were chosen by creating a funny subtitle for the book.  I wrote
Drift: How Dick Cheney Got His Groove Back
.  So, add
clever book subtitle maker
to my list of things I can do!
After I found out I called C at work and she asked if they were going to use it on the book.
"No, it's published already."

"Well, she sure would sell a lot more with that subtitle."

"um...It's number one on the New York Times' Best Seller list...I think she's doing ok."
Later I called my mom AND
she
was appropriately excited for me!  (Though, I suspect she wants to borrow it...
hmm
.)
Anyway, it's been a couple weeks and I think the whole Maddow book experience has inspired my new project quite accidentally.
[caption id="" align="alignnone" width="350" caption="Owl Drink to That"]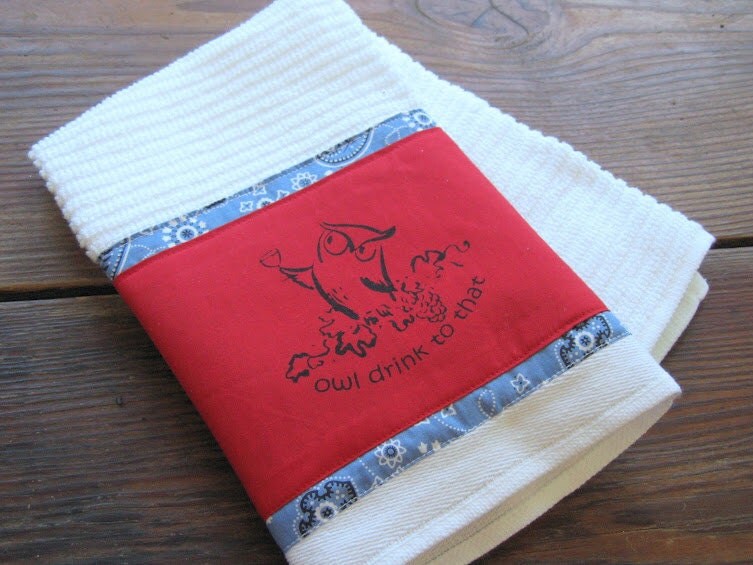 [/caption]
It's a patriotic owl bar mop towel!  I've been kicking the idea awhile of "Owl Drink to That" but just in the last week I decided to silk-screen it and top stitch it to a bar mop (which is a beotch by the way).  I pulled the red and blue fabric from the bottom of my fabric stash...not my typical color scheme.  Once I pulled it together I was like, hey,
Maddow is a mixologist, political wonk, and all around wise owl
!  Yay, it's cool when you use your noggin! 
(btw, someone almost immediately pinned it on Pinterest on a board called "to do"...thanks.  good luck with that.)
--Lisa LeBlanc
connect with me:
website
|
twitter
|
facebook
|
pinterest
|
ravelry