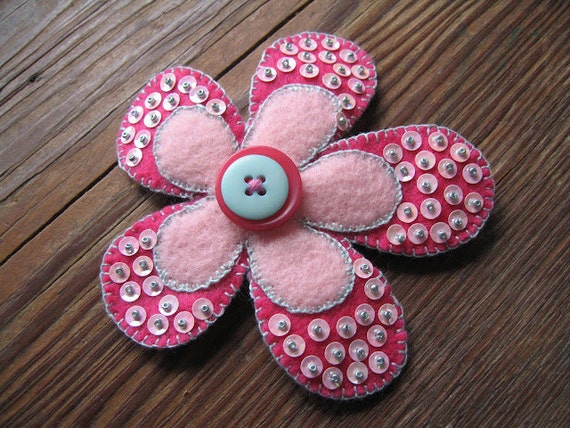 A couple weeks ago, I was selected as Shop of the Day in one of the handmade groups I belong to,
Handmade Louisiana
.  I was really surprised to be selected as I really haven't had time to participate...plus I was a little unsure about having hundreds of artisans perusing my items.  Everyone seemed really fixated on these little felt applique flower pins I make and my
patterns
.  One member even told me to go read the comments she got when she posted this very item on her Facebook page.  There were two.  The first questioning how could this be handmade and only cost $5 (I presume she's asking if I do indeed make these?) and the very next comment from another person stating that she would make the same thing herself.  I kind of think that answers itself...how cheap do I have to sell something that you won't make yourself?  I do make this and they take a very long time.  I didn't mind because I was using my stash, working on my embroidery skills, and do you ever make something that you just want people to have SO badly?
Last week I returned to the Farmer's Market in town after almost a year hiatus from being ill.  I was so excited about this show!  I just expected to be in my element with other crafty souls like myself and hopefully customers that get "it".  It certainly didn't play out that way; after the organizer lost our application, we were able to set up an hour late.  The small crowd did not really engaged in much of my work and in some cases were just down right rude.  I split my booth with a lady that does some machine embroidery and sews the cutest baby items...several people told her they could make it and walked off.  The best tho was when a lady picked up this engraved pencil set of mine:
and remarked to her friend "I don't know who this is"  I'm not certain if she thought "J'adore Paris" was someone's name or a brand name...but either way it was completely lost on her.  I was so discouraged that I don't think I made anything for days and I make something EVERY day whether it's for myself or the shop.  My partner pointed out the big seller at the market was a lady that sold these tacky blingy t-shirts for next to nothing; she said she designed the image but someone else produced them for her...I'm not sure if that should have qualified in a handmade market?  Anyway, C told me to start planning for more simple, quick sellers like those.  For me that's just selling out; four years ago when I opened my business I could have gone that route.  Believe me it's a lot cheaper to buy from China but for some crazy reason I get this high when I make something and someone actually likes it enough they buy it.  So I'll keep my integrity, thank you very much.
--Lisa LeBlanc
connect with me:
website
|
twitter
|
facebook
|
pinterest
|
ravelry