It just seems right that after having for sometime now what I call "linen lust" for all things textile related (especially
vintage
linens *chill runs up my spine*), I would cross over to the dark side of natural dyeing!  My first foray is
tea staining
...it's so easy, completely safe and natural.  I gathered a lot of tips from this
site
.  I'll go ahead a repeat a lot of her advice and give you a quick and easy recipe I developed for staining a few flour sack towels.
Supplies Needed:


black tea (20 bags) - an inexpensive, store brand is just fine


4 - 100% cotton flour sack towels


large pot


tongs


How To:
For every yard of fabric, you are going to use 8 oz. (1 cup) of water (and 2 tea bags), so fill a large pot with 10 cups of water and bring to a boil. Add the 20 tea bags and reduce the heat as your tea steeps for 5 minutes.
[caption id="attachment_594" align="alignnone" width="200" caption="20 tea bags steeping"]
[/caption]
Remove the pot from the heat and use the tongs to remove the tea bags, squeezing out the remaining tea.  I put all four towels directly in the pot, stir and then repeat every 5 minutes for 30 minutes to an hour.  Here is where you can use your judgement as towels will be darker the longer they remain in the tea.  I also like stirring frequently to create a more consistent color to the towels - you do not have to do this if you like a more mottled look.
[caption id="attachment_595" align="alignnone" width="200" caption="use the tongs to "stir" towels and finally remove"]
[/caption]
After 30 minutes to an hour, I remove each towel individually with the tongs and rinse under cold water -- a lot of color will be lost (you can put them back in the tea bath at this point to achieve a darker look).  I then pop all 4 towels in the dryer on high heat setting until dry and then iron them on the highest setting...ironing the towels makes the color permanent, an important final step!
If you are not happy with the results and you can always bleach your linens...the benefits of using a natural dye!  Remember to use 100% cotton as a synthetic fabric will not yield to the tea dye. Also, expect your batches to come out a little different each time; I've even found my results vary by brand of towels AND I suspect some manufacturers put certain finishes on linens to resist stains (and dyeing as you will find occasionally).
[caption id="" align="alignnone" width="200" caption="The finished towel!  Makes a unique gift."]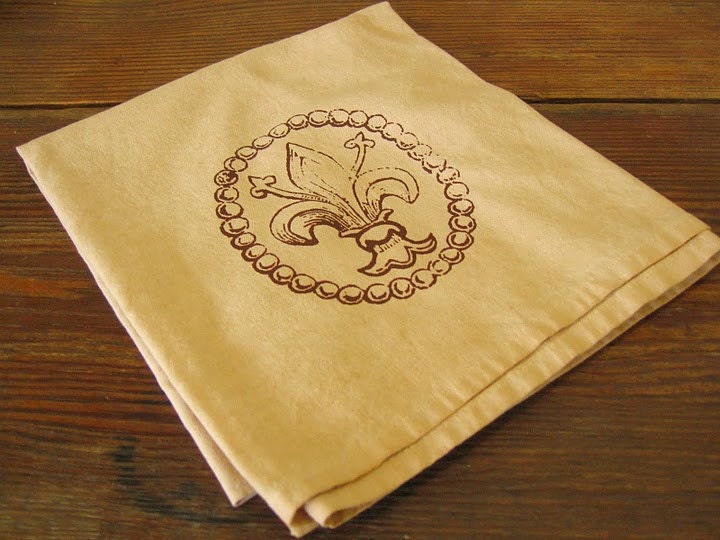 [/caption]
I finish my towels by silk screening a pretty vintage image on them; adding a pretty crochet trim is a nice touch too!
--Lisa LeBlanc
connect with me:
website
|
twitter
|
facebook
|
pinterest
|
ravelry